Last week several citizens observed an increase in activity within the Choctaw County Sheriffs Office.  During that time, the Choctaw County Sheriff's Office in conjunction with the U.S. Marshalls Service conducted a random compliance check of area sex offenders.  This random check was in addition to the deputies normal quarterly compliance check of each registered offender.
A total of five arrests were made.  Three arrests were for drug charges.  The fourth arrest was for being a Felon in Possession of a Firearm.  The fifth arrest was for several charges:  Violation of the Sex Offender Notification Act, Possession of Controlled Substance, Drug Paraphernalia, Hindering Prosecution, and being a Felon in Possession of a Firearm.
Sheriff Scott Lolley would like to thank the U.S. Marshal Service for their assistance with this special task.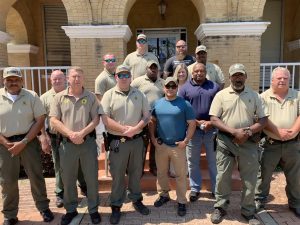 Scott Lolley
Choctaw County Sheriff
205-459-2166