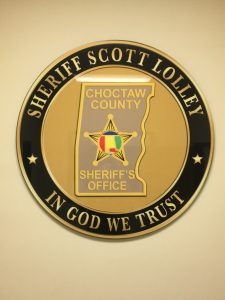 The following information represents work statistics gathered during the first term of office beginning January 20, 2015 until December 31, 2018.  Some statistics were not available until 2016 because we did not have a system in place to track certain aspects of our work.  The garbage program did not begin until January 2016.
3,405 inmates have been booked into the county jail (January 2015-December 2018).
1,267 warrants cleared from June 1, 2016 through December 31, 2018
86 mental health commitment hearings and transports (January 2015-December 2018)
7,909 civil papers have been served from January 20, 2015 up to April 6, 2018.

 

(Due to system upgrades, the numbers from April 7, 2018 until December 31, 2018 are currently unavailable.)
127,192 pounds (63.60 Tons) of garbage and 172,360 pounds (86.1 Tons) of scrap tires have been picked up and disposed (January 2016 through December 2018).
Sheriff Scott Lolley would like to thank all of the men and women of the Choctaw County Sheriffs Office for their hard work.
Scott Lolley
Choctaw County Sheriff
205-459-2166