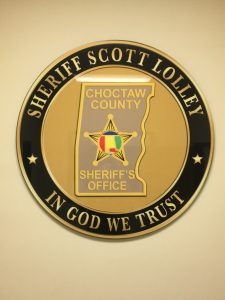 On Saturday, January 5, 2019, the Marion County Alabama Sheriff's Office made contact with the Choctaw County Sheriff's Office to inform them they had discovered the vehicle belonging to Mr. Arthur Lawrence Ward.  The vehicle was located in Hamilton, Alabama in a remote and deeply wooded area.  The vehicle was completely burned and the presence of human skeletal remains were present.  In addition to the sheriffs office investigation, the Alabama State Fire Marshalls Office responded to the scene to begin an investigation into the fire.
On Sunday, January 6, 2019, Sheriff Scott Lolley traveled to Marion County, Alabama to assist authorities with the investigation.  Cadaver dogs were brought in to assist with performing a more thorough search of the area.  A deputy with the Marion County Sheriff's Office delivered the remains that were found to the Alabama Department of Forensic Science to perform a DNA analysis.  This analysis will be used to compare a sample of Mr. Wards DNA that was previously submitted to the Alabama Department of Forensic Science by the Choctaw County Sheriff's Office.  The Alabama State Fire Marshals Office called the Alabama Forestry Commission in to remove the vehicle from the wooded area in order to perform a more thorough inspection.
Arthur Lawrence Ward was reported missing from his home in Pennington, Alabama on October 9, 2018.  Mr. Ward was last seen leaving his residence on October 8, 2018, driving a gray 2003 Chevrolet pickup with an Alabama tag.  At 69, Mr. Ward could at times suffer from a condition that would impair his judgment.  At the time of his disappearance, Mr. Ward left his home without his medication.
Final confirmation on the identity of the remains will be determined by the Alabama Department of Forensic Science, and this could take an unknown period of time.
Scott Lolley
Choctaw County Sheriff
205-459-2166